About Us
Fabrication & Galvanizing Technologies Co. Ltd – GALVATEC is a premier hot-dip galvanizing plant, established in the year 2009, at Second Industrial Area, Riyadh, KSA. Our facility was built on a total area of a 17,000 sq.m, of which, the area of the buildings is more than 6,000 sq.m.
The plant is equipped with 14.5 m x 1.6 m x 2.6 m zinc kettle, with 512 cubic meter Dryer, one Degreaser tank, five Hydrochloric Acid tanks, two numbers of rinsing tanks, one flux tank, one quenching tank, one passivation tank (as per customer requirement), five bridge cranes (double hoist) with a capacity of 10 tons each that run to the complete length of our facility and a monorail crane for comprehensive operation.
GALVATEC has a galvanizing capacity of 50,000 tons per year.We have expanded our services by including an Automatic Grit/ Shot Blasting machine to facilitate our customers' needs.
GALVATEC is technically specialized for galvanizing miscellaneous metal fabrications such as Structural Steel, Telecommunication Transmission tower members, lighting poles, pipes, welded brackets, beams, frames, rods, gratings, cable trays, cable ladders and all types of cable support systems, as well as many other items for a wide variety of customers and industries.
We are glad to announce that we are now a certified member of the American Society of Galvanizers, AGA.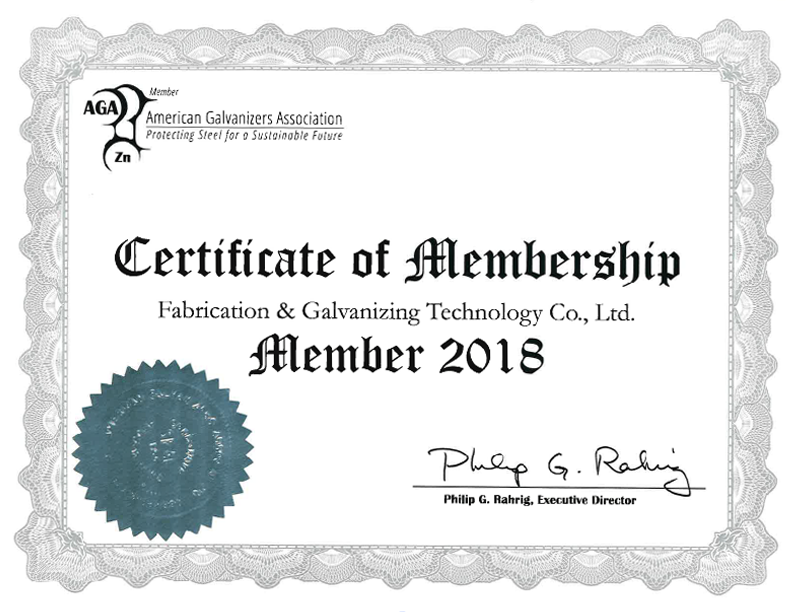 We take pride in declaring that Galvatec is ISO Certified.